I've been sporting the platinum blonde look for a year now and I have people come up to me asking where I had my hair done. They'd usually get surprised whenever I tell them that I do my own hair at home.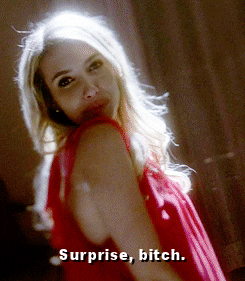 My Hair Journey
I have naturally dark brown hair. I got sick of it so I decided to  take the plunge and go full on blonde because of 1.) Targaryen hair and 2.) why the fuck not?
I first had my hair done in a hair salon. I showed them a photo of an Asian girl with white blonde locks and I told them that's how I want mine to look. The hair stylist looked me straight in the eye and warned me that for my hair to go super light, it requires many sessions of bleaching which can be super damaging to the hair plus it will cost me a lot of money. I said fuck it, let's do it.
After the first bleaching session, which almost took 3 hours, I came out with a very brassy orange hair.  I wasn't satisfied with the result because I really want white blonde hair so the hair stylist asked me to come back in 2 weeks for another bleaching session.
Well, I didn't. I decided that I'd do my own hair because it's cheaper that way and if I mess up, I'll only have myself to blame.
DIY Hair bleaching and Bleach Bath
Bleaching can be very damaging to the hair and  fortunately, even after countless times I've bleached it, it hasn't fallen out yet. My hair still looks pretty healthy and I think it's because I bleach bath instead of doing a full bleach.
Bleach bath or Shampoo bleaching is a GREAT option to lighten the hair slowly and gently.  Generally, a bleach bath is considered to be less harmful as it's diluted bleach though you still have to be careful because bleach can give your scalp a rash or chemical burn so do a patch test first.
What you'll need:
 Hair Bleaching Powder
 Oxidizing Lotion aka Developer
 Plastic mixing bowl, tinting brush, disposable shower cap, wide toothed comb and gloves
 Any brand of Shampoo
 Hair Toner/Purple Shampoo
 Keratin Conditioner or any intense hair condition cream you can use
I used to get my supplies at HBC, yung beauty store na ang model is si Sarah G. However, they don't sell blonde toners and purple shampoos so I am now getting my supplies from online stores like RainbowHead and Gwyshop.
What you need to do first is mix the bleaching powder, developer, and shampoo in a plastic mixing bowl until you get a creamy consistency. Use one part of the bleaching powder to two parts of the developer.
Dampen your hair and apply the mixture using the tinting brush. I'd advise getting someone to help you out with the bleaching process to even out the application.
Cover your hair with the shower cap and leave it on for 30-40 minutes, rinse and dry the hair out.
Hair Toning
After bleaching the hair, a toner is used to remove the brassiness. It neutralizes brassy yellow and orange tones on bleached hair.
There are different brands of hair toners but what I've been using since is Wella T18 (white lady). Your hair needs to be on level 10 or pale yellow for the toner to work so you may need to do one more round of hair bleaching if the hair isn't light enough.
Every week or 2, I'd use Purple Shampoo to give my blonde locks a boost or whenever my hair is looking a little brassy.
Hair Care
After everything that my hair's been through, it needs intense TLC. What I do is pretty simple, I don't wash my hair with regular shampoo and I use Keratin every day and leave it on for 10-15 minutes.
[satellite gallery=1 auto=off caption=on thumbs=on]
Til next! 🙂